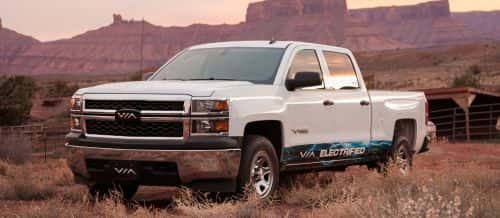 VIA Motors Inc. says it has secured emissions certification from the California Air Resources Board (CARB) and the U.S. Environmental Protection Agency (EPA) for its plug-in extended-range electric (eREV) upfit offering of the Chevy Silverado pickup truck, clearing the way for the company to deliver the vehicles to its fleet customers. VIA received similar certification from the agencies for its eREV van offering last year.
VIA employs an upfitting manufacturing process to integrate its proprietary VDRIVE powertrain into new OEM vehicles. The company says its powertrain technology delivers a battery range of up to 40 miles and unlimited extended range, averaging over 100 mpg in typical daily driving.
"This is an important milestone for our company and a recognition of the considerable effort put forth by the members of our team to bring this game-changing technology to the marketplace," states Peter Guile, CEO of VIA Motors.
VIA claims it is the only manufacturer to have complied with both CARB and EPA requirements and receive certification for Class 1 and 2 eREV trucks and vans. The company says it has been developing its current-generation, proprietary VDRIVE powertrain over the past three to four years, and achieving certification is a major step forward for eREV technology designed specifically to meet the demands of fleet applications.