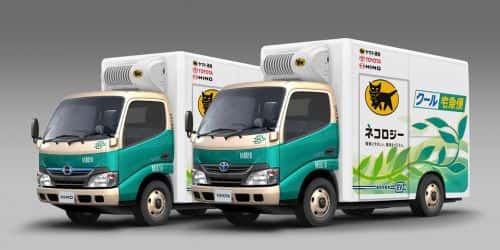 Yamato Transport Co. Ltd., Toyota Motor Corp. and Hino Motors Ltd. are initiating trial testing of electric vehicle technology for trucks in Yamato's delivery fleet operating out of Tokyo.
Developed by Hino, the all-electric, battery-powered truck is a one-ton, ultra-low-bed model that features refrigerated or frozen cargo space. The trials are scheduled to be conducted for about a year, after which time the companies will ascertain if the EV is suitable for wide adoption in delivery fleets. The results will also help Toyota and Hino determine areas for improvement for other commercial launches of all-electric trucks.
Hino recently displayed an EV truck concept vehicle with an ultra-low bed based on this idea and subsequently continued development, completing a practical-use prototype. By placing a compact electric motor under the cab and adopting front-wheel drive, the batteries could be placed under the bed. The bed floor could then be positioned at a height of just 440 mm above the ground, creating a vehicle with a much lower bed than conventional trucks.