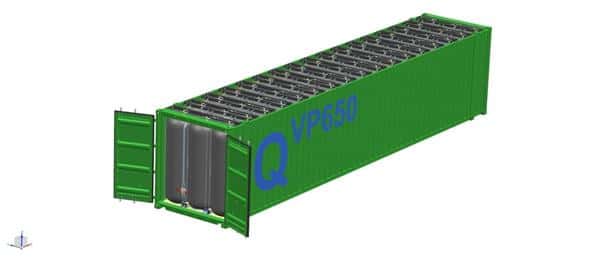 Quantum Fuel Systems Technologies Worldwide Inc. has introduced its VP-650 compressed natural gas (CNG) virtual pipeline trailer, which the company says offers a capacity of approximately 650,000 SCF.
According to Quantum, the VP-650 virtual pipeline trailer will be capable of moving large quantities of CNG to support industrial users of energy that are not connected to a natural gas pipeline. The VP-650 utilizes Quantum's Q-Lite CNG storage cylinders, and the trailer's tanks are capable of storing gas at up to 5,000 psi service pressure, which the company says enables additional fuel capacity compared to standard 3,600 psi systems.
The trailer design and integration will also feature push-button shut-offs, independent lock-off features, and other technology to ensure a full fill is achieved every time, says Quantum. The VP-650 is mounted in a 45-foot hi-cube shipping container and has also been designed for sea transport.
"We are excited to be bringing our new VP-650 high-pressure 5,000 psi technology together with our lightweight cylinder experience to emerging applications within the virtual pipeline industry," says Brian Olson, president and CEO of Quantum.
Quantum is currently taking orders for the VP-650 and plans to deliver the units to customers in mid-2016 following final validation, certification and permitting procedures.