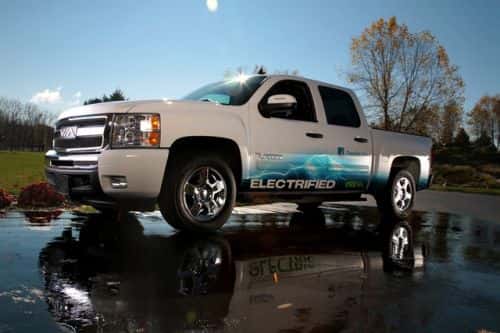 Sunday was National Plug-In Day, and California-based utility Pacific Gas and Electric Co. (PG&E) marked the occasion at three events in the Bay Area by showcasing the fleet's extended-range electric truck from VIA Motors.
'VIA's new truck has the potential to radically transform the electric utility business,' says Dave Meisel, director of transportation services for PG&E. 'Not only will it deliver fuel-cost savings and reductions in greenhouse gas emissions, it could potentially alter the way we provide electricity to our customers.'
The first generation of VIA electric trucks offer 15 kW of capacity and a 402 horsepower electric motor. The vehicle's electric-only range is up to 40 miles, supported by traditional gasoline power (which adds another 350 miles).
PG&E tested two of VIA's eREV trucks last year and received the first pre-production VTrux model this month. Full-production models will be available in early 2013, according to VIA.
Photo courtesy of VIA Motors