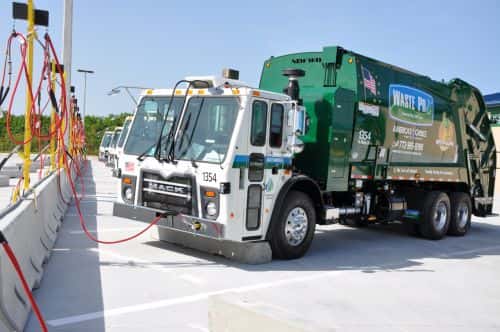 Long-term plans in Jacksonville, Fla., could include a new contract with existing refuse and recycling firm Waste Pro that calls for a shift to compressed natural gas (CNG) for the company's fleet.
City council member John Crescimbeni is introducing legislation that will replace a bill put forth by fellow council member William Bishop in early January. Bishop's legislation seeks a one-year extension of Waste Pro's existing contract with the city, while Crescimbeni's will look for a 10-year extension that includes both CNG trucks and refueling infrastructure.
The Florida Times-Union reports that Jacksonville spent about $1.4 million on diesel for its waste fleet last year. A switch to CNG, at today's fuel prices, would bring down that cost dramatically. Jacksonville is reportedly eyeing an initial conversion of 50 trucks to CNG.
Crescimbeni's legislation would require Waste Pro to construct a private CNG refueling station at a cost of approximately $1.2 million. The city would reimburse Waste Pro for that up-front investment over the 10-year life of the contract.
Waste Pro has already invested heavily in CNG in its Ft. Pierce, Fla., fleet, where the company will eventually operate a total of 80 Mack CNG refuse trucks. The company worked with Clean Energy Fuels to install time-fill natural gas refueling capabilities (see photo) to support the Ft. Pierce CNG fleet.