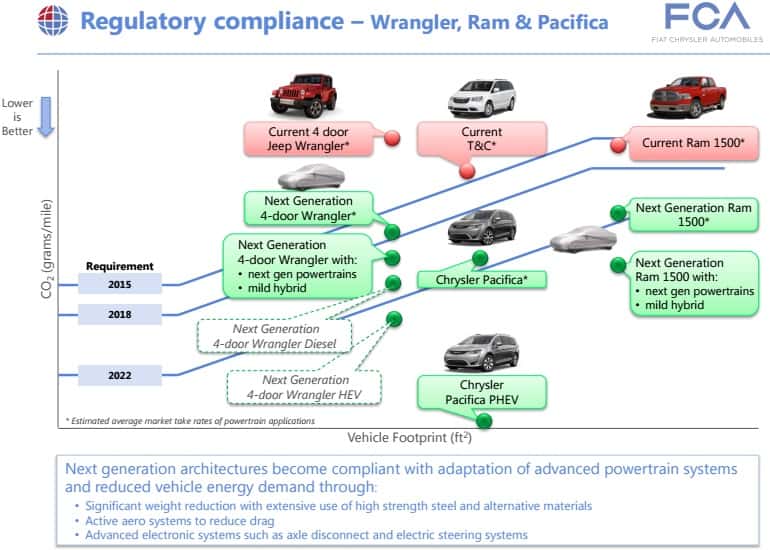 Fiat-Chrysler Automotive (FCA) has released an updated product plan that includes both diesel and mild-hybrid drivetrains for the next-generation Ram 1500 pickup due in 2022. The revised plan shifts the automaker's focus to crossovers, SUVs and light trucks. Diesel and mild-hybrid versions of the Jeep Wrangler, as well as a plug-in hybrid version of the new Chrysler Pacifica minivan, will also join the next-gen Ram among alternative-fuel options.
According to FCA's product plan, the next-gen Ram 1500 will offer a 48-volt mild-hybrid system. Although mild-hybrids are typically unable to directly power a vehicle's wheels, it can boost fuel economy by allowing the engine to idle or even shut down completely while coasting or stopped and still supply ample power to the vehicle's electrical systems.
Automotive technology suppliers, such as Bosch, have developed mild-hybrid systems that they say can boost fuel economy by as much as 15%. On the current model Ram 1500 with the 3.6-liter Pentastar V6, a 15% fuel economy boost would translate to about 3 MPG on the highway.
The automaker has tested hybrid pickups before, launching a fleet of 109 plug-in hybrid Ram 1500 pickups and 23 Chrysler Town and Country minivans back in 2011. According to FCA, the trucks averaged 37.4 MPG over more than 1 million miles of on-road testing, but the automaker ended the plug-in pickup program with little fanfare in 2013.
Instead, it chose to pivot to diesel engines, beginning with the 3.0 liter EcoDiesel that debuted in the Jeep Grand Cherokee before becoming available in the Ram 1500. When equipped with the EcoDiesel engine and two-wheel drive, the Ram 1500 is rated at up to 29 MPG on the highway.
FCA's decision to concentrate on crossovers, SUVs and pickups comes amidst low gas prices and changing consumer tastes. FCA's CEO, Sergio Marchionne, believes low gas prices are here to stay, as is the rising popularity of crossovers. To that end, FCA is also ending production of its slow-selling compact sedans, the Dodge Dart and Chrysler 200. The extra production capacity is earmarked for the popular Jeep Cherokee, which shames the same platform and production lines as the Dart/200.