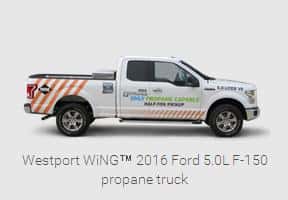 CleanFUEL USA, a developer of propane autogas fuel injection systems, has announced an agreement with Westport Innovations Inc. to serve as a supplier for Westport's autogas offering for the model-year 2016 Ford 5.0-liter F-150 truck.
In May, Ford Motor Co. announced that the 2016 pickup would be available with a gaseous-fuel prep package to enable the vehicle to run on autogas or compressed natural gas (CNG). Westport, a Ford Qualified Vehicle Modifier, soon after announced it will offer a dedicated autogas system, as well as a CNG package, for the truck.
"With the 2016 Ford F-150, Westport is delivering a variety of alternative fuel solutions for fleets," says Paul Shaffer, vice president and managing director of Westport's Dallas operations.
The autogas Westport WiNG Power System will employ CleanFUEL USA's liquid propane injection technology. CleanFUEL notes that Westport's propane-powered F-150 offers Ford QCM/QVM warranty protection, with expected U.S. Environmental Protection Agency and California Air Resources Board certification.
The autogas fuel packages include a standard 23-gallon underbody tank, an extended 39-gallon underbody tank or an in-bed 60-gallon tank. The autogas F-150 truck with the Westport WiNG Power System is now available to order.
"CleanFUEL USA and Westport are both providing high-quality, alternative-fuel-powered fleet vehicles with lower emissions and vast economic benefits," says Curtis Donaldson, founder and president at CleanFUEL USA. "The Westport WiNG Power System propane offering demonstrates that, and we look forward to expanding our relationship with future opportunities."