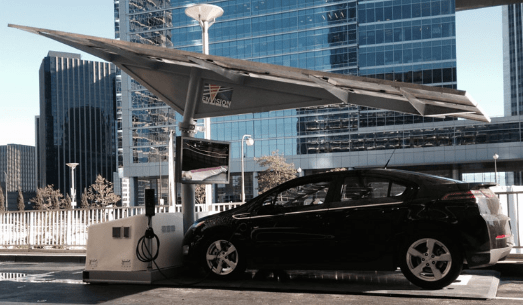 Envision Solar International Inc., the renewable energy and electric vehicle (EV) charging company, says that the Fresno County Rural Transit Agency (FCRTA) has ordered 13 EV ARC units against the California state contract awarded to Envision Solar in 2015 and renewed in 2016.
According to Envision, FCRTA will deploy the 13 EV ARC solar-powered EV chargers as part of its ongoing innovative efforts to reduce harmful emissions in Fresno County. FCRTA worked with the Department of Transportation and the San Joaquin Valley Air Pollution Control District to realize this pollution reduction program.
The company says this will be the first deployment of solar-powered EV charging to target disadvantaged communities.
The EV ARC units will charge EVs and be equipped with emergency power panels, which can be used in the event of a blackout or brownout. First-responders can depend on them as a highly reliable source of emergency power, Envision says.
"We are dedicated to helping the San Joaquin Valley Air Pollution Control District meet its air quality goals and to making the people of our community safer during emergencies," says Moses Stites, FCRTA's general manager. "Transportable solar-powered EV chargers that also provide emergency power deliver a highly compelling value proposition and allow us to do both."
"This is one of the most innovative and meaningful deployments of EV ARC products yet," says Desmond Wheatley, CEO of Envision Solar. "We are delighted that our products will not only help to clean the air and make fueling less economically burdensome for the hard-working people of Fresno County, but also keep them safe during the times when they need electricity the most."
As previously reported, the EV ARC fits inside a parking space and does not reduce available parking in any way. The system's solar electrical generation is enhanced by the patented EnvisionTrak system, generating 18% to 25% more electricity than a fixed array. The energy is stored in the EV ARC product's energy storage for charging day or night.