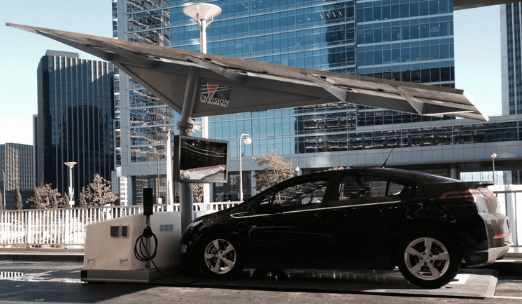 Envision Solar International Inc., a renewable energy, media and branding, and electric vehicle (EV) charging product company, says that California has re-awarded the company a contract to supply EV ARC products to State of California Departments and other state and local governmental agencies or entities.
According to Envision, the contract was originally awarded on June 12, 2015, for a one-year term with two one-year renewal options. With this announcement, the State of California has elected to exercise its option to renew the contract for the second year.
Under the contract, Envision Solar has successfully delivered multiple EV ARC units to Caltrans, the Department of General Services, the Office of the Governor General and the State University System, as previously reported. Envision is currently fulfilling a purchase order against the contract to deliver more EV ARC systems to Caltrans.
Gov. Jerry Brown has committed to having more than 1.5 million EVs on the road in California by 2025, and the state continues to work to ensure that there will be sufficient EV charging infrastructure in place to support that goal.
"California is an important customer for our growing company," says Desmond Wheatley, CEO of Envision Solar. "Having completed several deliveries of our product in the first year of the contract, we view this renewal as a resounding endorsement by one of the most discerning customers we could hope to have. We look forward to many more successful order fulfillments."
Invented and manufactured in California, the EV ARC product fits inside a parking space, does not reduce available parking in any way, and generates enough electricity to power up to 150 miles of EV driving each day. The system's solar electrical generation is enhanced by the patented EnvisionTrak system, which causes the array to follow the sun, generating 18% to 25% more electricity than a fixed array. The energy is then stored in the EV ARC product's energy storage for charging EVs day or night.
According to a report from Navigant Research, the states of California, New York, Washington and Florida will lead the U.S. in annual sales of plug-in EVs through 2022.