As the U.S. Environmental Protection Agency (EPA) moves to roll back efficiency and emissions standards, automakers, spurred by those standards, are delivering cleaner cars than ever. However, automakers have the technology to go much further – and need to do more to continue their progress on reducing pollution and increasing fuel economy, claims a new report from the Cambridge, Mass.-based Union of Concerned Scientists (UCS).
In its new Automaker Rankings, the group takes a close look at how auto manufacturers are reducing pollution from the cars and trucks they sell in the U.S. The report analyzes the bottom-line environmental performance of the entire auto industry and features eight full-line manufacturers that account for 90% of the cars and trucks sold in the U.S. To do so, UCS used publicly available data on model year 2017 vehicles and evaluated each automaker's average per-mile emissions of smog-forming and global warming pollutants.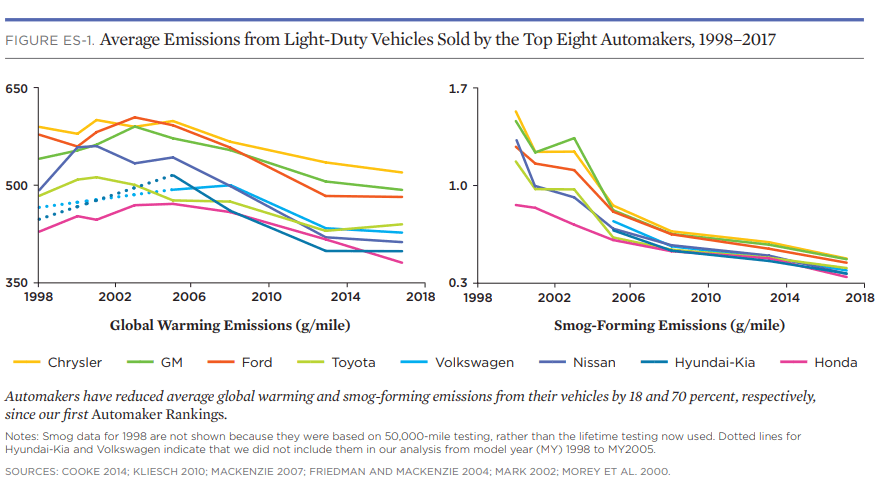 At the beginning of April, Scott Pruitt, administrator of the EPA, determined that greenhouse-gas emissions standards for cars and light trucks for model years 2022-2025 are not appropriate and must be revised. UCS, along with a number of other environmenal and public interest groups, filed a lawsuit last month against the decision. Separately, California is leading an 18-state coalition to also sue the EPA.
"The auto industry's trade groups pushed to reopen the standards and weaken them," says Dave Cooke, senior vehicles analyst at UCS and the lead author of the new report. "The evidence shows how unnecessary that is. There's a wide range of proven technologies automakers could be using to give consumers cleaner choices. The fact is, they've been meeting the standards without even taking full advantage of those technologies."
This is the seventh iteration of the UCS Automaker Rankings since 2000, but for the first time, UCS is not naming a "Greenest Automaker." As the auto industry evolves, many of the most innovative and effective clean technologies are being introduced by smaller manufacturers not historically captured in the Automaker Rankings, the group explains. And while the analysis looks specifically at smog-forming air pollution and global warming emissions, sustainability must also include broader topics not captured in the report, such as manufacturing practices, supply chains and energy use, according to UCS.
"Many automakers, including Ford and Toyota, tout themselves as 'green' companies, and their executives talk a lot in public about sustainability and climate change," says Cooke. "We need to judge them not just on what they say but what they do."
According to the report, manufacturers have achieved a record low in emissions from the average new vehicle. However, the pace of reductions is slowing, and Toyota exemplifies this trend: The average vehicle it sold in 2017 emits more global warming emissions than those it sold in 2013, when UCS last assessed the fleet. Ford and Hyundai-Kia showed
similar difficulty in improving their fleets; the average global warming emissions from their vehicles flatlining compared with the previous report.
Among the eight major manufacturers examined, Honda's fleet produces the least pollution, according to the report. However, beyond the eight major automakers, Honda falls well behind Tesla: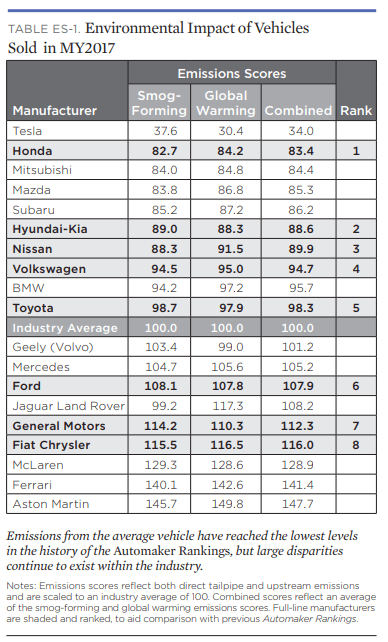 Even though Honda, like many other manufacturers, is shifting resources to trucks and SUVs, the company is still showing steady progress on reducing emissions. Meanwhile, Fiat Chrysler is once again selling the dirtiest vehicles, according to this year's report.
"No matter what kind of vehicle they want to buy, drivers expect automakers to offer them cleaner, more efficient cars and trucks," says Michelle Robinson, director of the Clean Vehicles Program at UCS. "Automakers are progressing, but they can go further. We need to resist the Trump administration's efforts to gut the standards that have been so effective at making sure we get cleaner choices every year."
The full report, as well as an executive summary, can be found here.