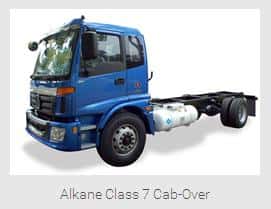 South Carolina-based Alkane Truck Co. Inc. has announced its propane autogas and compressed natural gas (CNG) Class 7 cab-over trucks are now available for dealership orders after the company finalized compliance to the U.S. Department of Transportation (DOT) standards and regulations. Alkane will begin assembly operations in early 2016 for the alternative fuel trucks in the 26,000 GVW and 33,000 GVW weight classes.
The original equipment manufacturer recently announced it is establishing new manufacturing operations in Summerville, S.C., to produce the Class 7 cab-over trucks, and the facility is expected to create hundreds of jobs.
"We are excited about our new truck," says Alkane CEO Bob Smith. "We're equally excited to bring new skilled jobs to American workers. Our assembly facility in Dorchester County will employ more than 300 automotive technicians once it reaches full capacity."
Alkane says its Class 7 cab-over truck comes equipped with a Power Solutions International 8.8-L engine with a Bi-Phase Technologies autogas or CNG fuel system and is complemented by the Allison 2500 series heavy-duty automatic transmission.
All the truck components are outsourced to qualified existing U.S. manufacturers and will be assembled per order in Alkane's Summerville facility. The distribution program utilizes fleet operators and heavy-duty truck dealerships to sell and service the trucks. Over 130 dealership locations across North America have signed a memorandum of understanding for the program, and Alkane plans to add an additional 200 dealerships.
Alkane notes it has additional automotive products in its development pipeline, including a Class 8 CNG or liquefied natural gas (LNG) long-haul truck and an autogas-powered heavy-duty Humvee-type vehicle.
Steve Rayborn, the company's spokesperson and vice president of global sales, says Alkane is "very excited."
"We're accomplishing several things here," he says. "We're lowering our dependence on foreign oil and we're putting environmentally cleaner trucks on the road, we're saving fleet operators badly needed cash by reducing overall operating cost, and we're creating jobs in America."