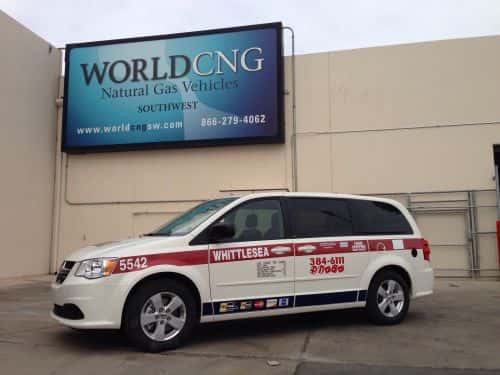 World CNG, a company focused on compressed natural gas (CNG) conversions for light- and medium-duty vehicles, says it has received U.S. Environmental Protection Agency (EPA) certification for CNG system installations on model-year 2013 and 2014 Dodge Caravans with Chrysler's 3.6-liter Pentastar engine.
The company says these CNG conversions can be ordered in a dedicated configuration or a proprietary bi-fuel CNG/gasoline orientation. Garret Alpers, CEO of World CNG, tells NGT News that the firm's precise reflashing of the Chrysler engine control unit (ECU) will also make certification against California Air Resources Board (CARB) standards possible.
World CNG's system has been installed in several of its fleet customers' Dodge Caravans, most notably with Whittlesea Bell Transportation. That fleet has been testing almost two dozen CNG-powered Caravans in Las Vegas for a number of months, and Alpers says Whittlesea Bell will have a total of 91 such vehicles in its fleet by the end of the second quarter.
'This product been put through a rough development cycle,' Alpers says, referring to the extreme heat and desert environment of greater Las Vegas that Whittlesea Bell's fleet of NGVs has faced. Nonetheless, he reports that the systems have performed well – even resulting in fuel economy that is 10% to 15% better than gasoline-powered Caravans.
World CNG will be handling conversions at its three facilities, in Las Vegas, Chicago and Seattle. For more information about the CNG-powered Caravan platform, contact Alpers at garret@worldcng.com.