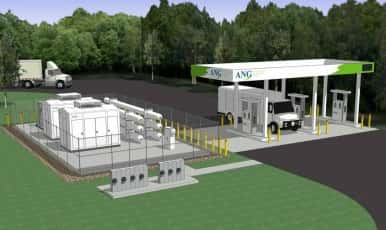 American Natural Gas (ANG) is building a new public-access compressed natural gas (CNG) station in Saratoga Springs, N.Y., and the company expects the project to be completed in January 2016.
Currently under construction, the facility will be just off of I-87, located halfway between New York City and Montreal within the W.J. Grande Industrial Park.
"We're proud to run our business from Saratoga Springs and are excited to be building this station in our hometown," states Drew West, CEO of ANG. "We believe this will be an opportunity for those that desire to switch to a cleaner, more reliable fuel solution, but don't have the luxury or budget to build their own infrastructure."
This project is the third New York State station announced by ANG in the past two months and the second public one. ANG says the new facility will become an important point along the company's growing corridor of public CNG stations in the Northeast and extend the range of travel for CNG-converted fleets.
The new station will have two 200 HP Cobey Energy compressors with two points of temperature compensation and a Xebec dryer. It will feature three fueling lanes and Bennett CRIND dispensers that can accommodate Class 8 tractor-trailers. ANG will own, operate and maintain the station, located at 34 Cady Hill Blvd.