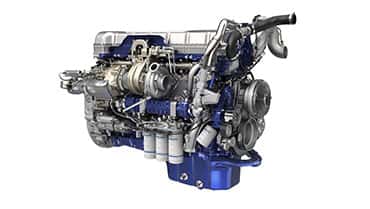 Volvo Trucks North America has debuted several new integrated diesel powertrain solutions that the truck maker says offer increased fuel efficiency, productivity, reliability, packaging, comfort and uptime.
Volvo's new powertrains offer several enhancements, such as turbo compounding for the Volvo D13 engine, the introduction of Volvo I-Shift with Crawler Gears automated manual transmission and a one-box exhaust aftertreatment system.
Volvo's 2017 D13 engine will be available with turbo compounding, a technology that recovers wasted exhaust heat and converts it to useable mechanical energy that is transferred back into the engine. The result of this recovered energy is up to a 6.5% improvement in fuel efficiency compared with previous engine models, benefiting long-haul, steady-state driving the most.
Volvo's XE – eXceptional Efficiency – powertrain package with the D13 turbo compounding engine will be available to customers desiring to run in top gear in states and provinces that have 55 MPH speed limits. Through downspeeding, XE allows the engine to cruise at up to 300 rpm less than the average truck sold today – significantly improving fuel efficiency. More than 27% of all Volvo models sold in 2015 featured an XE package.
Volvo's 2017 11-liter D11 engine and the 2017 D13 both received numerous updates designed to improve fuel efficiency, as well. The updates include a proven common-rail fuel system that reduces engine and cab noise, an available two-speed coolant pump that reduces parasitic loss, and redesigned pistons for greater combustion efficiency.
These improvements boost D11 to up to 425 horsepower while improving fuel efficiency by up to 2.2%, says Volvo. The 2017 D13 will see up to a 2.5% improvement in fuel efficiency. Volvo has approved both engines to run on renewable diesel fuel.