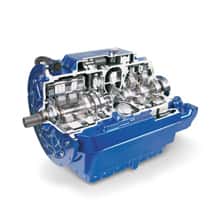 Voith GmbH, one of the world's largest multi-faceted engineering companies, recently completed field tests of its SensoTop transmission technology in a number of transit bus fleets, and the results showed that the fuel savings resulting from the Voith platform reacged as high as 7%.
The company performed the testing in Minneapolis; Salt Lake City; Austin, Texas; Lancaster, Pa.; Portland, Ore.; and San Mateo County, Calif. These tests were conducted over several weeks, and each fleet experienced fuel savings between 3% and 7%. Savings of over 12% were realized in Minneapolis during one week of testing.
SensoTop is an updated version of the software used to control Voith's DIWA.5 transmission, the company says. When combined with a maintenance-free inclination sensor that Voith has added to its ECU, the software allows the transmission to automatically adapt gear-shifting points based on acceleration, vehicle load and the topography of the route.
'Can a transmission really save you money? As these tests have shown, the answer is a resounding 'yes,'' says Brian Sharp, sales manager for the DIWA product line. 'What's most impressive about these tests is that SensoTop achieves savings on diverse topographies and routes – both mountainous and flat, and those with frequent and infrequent stops.'
SensoTop, which has been approved for use with all Cummins engines, is available as a retrofit option accompanying all existing Voith DIWA.5 transmissions, and the technology will be offered on new buses this year.
About 250,000 buses worldwide use Voith automatic transmissions.