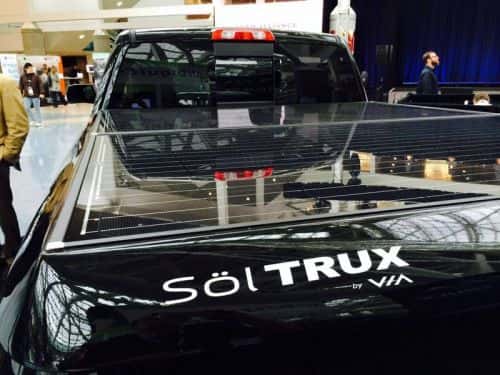 During the LA Auto Show last week, VIA Motors debuted a solar-panel bed cover called the SolTRUX as optional equipment for its extended-range all-electric pickup trucks.
The technology integrates high-capacity solar panels with VIA's proprietary powertrain and charging technology, allowing the panels to charge the truck when parked or driving. VIA says a SolTRUX cover can add up to 10 miles of additional electric-powered vehicle range on 'long sunny days.'
'This much solar charging really wasn't available until we electrified the pickup truck, which offers enough real estate to accommodate full-size, high-capacity panels,' says David West, chief marketing officer for VIA Motors. 'This option makes owning an electric truck even more attractive today because it can charge while parked.'
VIA plans to offer the SolTRUX option on its VTRUX model – an electrified version of the Chevy Silverado – through participating dealers after the production launch of its 2014 electric truck in mid-2014. VIA is also developing a similar option for its passenger and cargo vans.