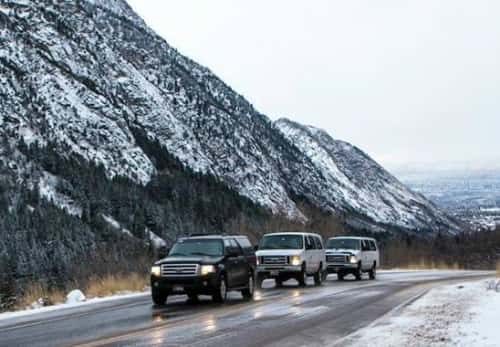 Canyon Transportation, a Salt Lake City-based airport shuttle company, has converted four vehicles to propane autogas, offering skiers a more environmentally friendly ride to and from mountain resorts.
The shuttle company offers both private and shared rides from the Salt Lake City airport to the area's nine local ski resorts. CEO Melanie Marier says these services are in high demand and play an important role in environmental sustainability in the area.
"We're the only company in Salt Lake City that provides shared rides to the four ski areas within an hour of the airport," says Marier. "Winter is our busy season, and that's also when we see the worst air quality in the area. Groups like Ski Utah, Protect Our Winters and Mountain Accord are helping steer the clean air conversation in the outdoor recreation industry. Converting our fleet to an alternative fuel is one way we can make a substantial contribution to the larger effort, along with moving more people at once and minimizing unnecessary trips."
Marier says she chose propane autogas over other alternative fuels because it's infrastructure is simple to install and carbon reduction benefits. Canyon Transportation's fuel provider, Blue Star Gas, estimates the fleet's conversion will eliminate 20 tons of greenhouse gas emissions annually.
Canyon Transportation operates a 40-vehicle fleet consisting of Ford Econoline and Transit vans, Expedition SUVs, wheel chair accessible vans and Mercedes Sprinters. Marier says the company has converted the first four Econoline and Transit vans and will continue to convert new vehicles as she upgrades the fleet. Marier projects the conversions will pay for themselves through fuel savings.
"The big selling points for us were logistics and range," states Marier. "We had some natural gas vehicles in the fleet, but we're phasing them out because their range wasn't working for us. Our propane vehicles will be able to drive an entire shift without refueling, which is a big advantage."
Blue Star Gas says it will oversee the vehicle conversion, install a 1,000-gallon on-site fueling system and provide training and support to the Canyon Transportation team.
Darren Engle, director of government relations for Blue Star Gas, sees a lot of potential for alternative fuels in Utah.
"Utah has a state government that understands the needs of fleet owners, a population motivated to improve their local air quality, and fleet managers like Melanie who possess the willingness to take action," comments Engle. "These fleet conversions are a win from every angle, and we're very excited to be working with Canyon Transportation and our other Utah fleets."
The newly converted shuttle vans have been placed in service in time for peak ski season.