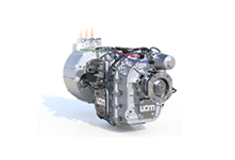 UQM Technologies Inc. has announced an alliance with the vehicle group at Eaton and Pi Innovo, both located in Michigan, to develop a full-electric drivetrain system with a two-speed transmission and an inverter with a transmission control unit for the medium- and heavy-duty electric vehicle (EV) market.
UQM asserts that Eaton will develop and supply the two-speed transmission and Pi Innovo will develop and supply the transmission control unit. Together, the components will be combined with UQM's current PowerPhase HD220/HD250 motor and inverter system to create a full-electric drivetrain system called the UQM PowerPhaseDT.
According to UQM, this system will allow customers in the medium- and heavy-duty EV commercial markets to achieve increased performance in areas of gradability, acceleration and efficiency.
The company says the Eaton two-speed transmission provides a greater speed and torque range from what would normally be possible in a direct-drive system, allowing a smaller electric motor to drive large vehicles. Further, the drivetrain allows for better packaging, efficiency, greater payload capacity and lower cost when compared with direct-drive or single-speed drivetrain strategies, the company asserts.
"Perhaps the biggest benefit is the fact that the two-speed transmission keeps the electric motor operating in the highest efficiency region for a greater portion of the drive cycle," says Josh Ley, vice president of technology for UQM. "This, coupled with the extremely high efficiency of the UQM PowerPhaseDT electric drivetrain system, will enable the highest overall vehicle efficiency, saving cost in batteries and increasing range."
UQM says it will have prototypes ready for customers by early fall and start-of-production units ready by early 2017.