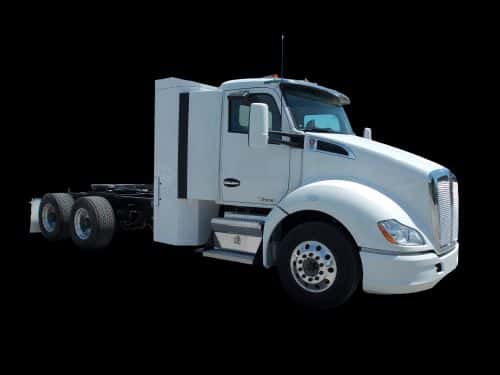 Ohio-based Trilogy Engineered Solutions is promoting the increased benefits of its second-generation back-of-cab compressed natural gas (CNG) fuel systems.
Art Holbert, Trilogy's vice president of sales and engineering, explains the company launched its first-generation platform in 2012, and the systems ranged from 112 DGEs to 148 DGEs. He says the company then built on its success and created lighter systems with more capacity.
"The biggest obstacle we noticed when meeting with potential customers was our weight," says Holbert. "We designed our systems to be rugged and exceptionally durable, but for our second generation, we had to find a balance."
As announced last year, Trilogy started integrating 26-inch-diameter G-Stor Go Type 4 cylinders from Luxfer Gas Cylinders into its second-generation platform, and Holbert says Trilogy's systems now range from 120 DGEs to 170 DGEs.
In addition to the increased fuel capacity, Trilogy says the newest systems weigh an average of 20% to 25% less than the first generation while still maintaining their structural integrity and vocational style. Furthermore, the company notes the second-generation systems come with a 20% lower cost of ownership than their predecessors and include several patent-pending performance enhancements.
"We are working hard to be both innovative and competitive," says Holbert, adding that Trilogy also offers a unibody, 60-DGE mini back-of-cab CNG system.
The company announced the mini system earlier this year and says the product's small footprint allows a tighter turn radius and works well for dual-fuel vehicles, as it can be used without removing the diesel saddle. That system features Luxfer G-Stor Pro Type 3 cylinders.
For more information, contact Art Holbert at aholbert@trilogy-es.com or (330) 915-2303.
Photos courtesy of Trilogy Engineered Solutions: The company's second-generation hybrid back-of-cab 120-DGE system