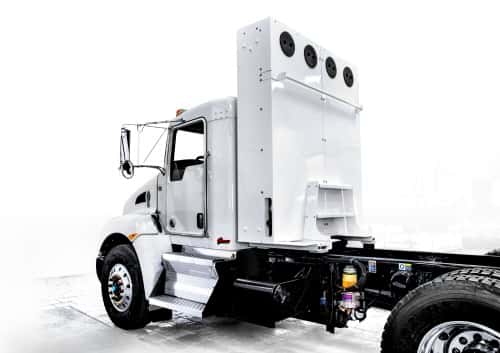 Ohio-based Trilogy Engineered Solutions has announced a unibody, 60-DGE mini back-of-cab compressed natural gas (CNG) fuel-delivery system.
'Our new system introduces Trilogy to new markets, including beverage and dual-fuel,' states Matt Lawrence, Trilogy's chief financial officer.
Trilogy says the system's small footprint allows a tighter turn radius that helps beverage trucks avoid jackknifing, especially when making city deliveries. The company adds the system also works well for dual-fuel vehicles, as it can be used without removing the diesel saddle.
The system features Luxfer G-Stor Pro Type 3 cylinders, Luxfer one-turn valves and Luxfer's flow-splitter technology.
Trilogy plans to improve its earlier hybrid back-of-cab systems by incorporating the same Luxfer technology package. The company says no major design changes will be needed.