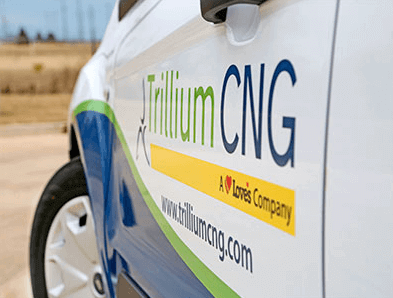 Officials with the Pennsylvania Department of Transportation (PennDOT) and rabbittransit in York, Pa., held a ribbon-cutting ceremony yesterday to welcome the commonwealth's newest public compressed natural gas (CNG) station.
As reported, the newly opened facility is the second public CNG station Love's Trillium CNG designed, built and maintains for numerous transit authorities in Pennsylvania as part of a public-private partnership (P3) PennDOT awarded to the company last year.
"CNG is clean transportation fuel. Not only will it help reduce our carbon footprint, but it will help reduce our maintenance costs, as well as create jobs in Pennsylvania. We couldn't be more pleased to be a partner in this initiative in bringing public-private fueling stations to the commonwealth," says Richard Farr, rabbittransit executive director.
According to Love's Trillium CNG, the P3 project will provide CNG to more than 1,600 buses at transit agencies across Pennsylvania. rabbittransit has one CNG bus, and eight additional CNG buses will be delivered next month.
According to the Alternative Fuels Data Center, the new station at 415 N. Zarfoss Dr. is the second public CNG facility in York.
"This innovative program will help foster the use of this cleaner-burning fuel that will make a difference for air quality while helping transit agencies save money through lower fuel costs," comments Toby Fauver, PennDOT's deputy secretary for multimodal transportation.
The new station in York was primarily built to meet the needs of rabbittransit's growing fleet of CNG buses but is also open to the public 24/7. The station provides service to vehicles of all sizes, including light-, medium- and heavy-duty trucks.
Six of the 29 facilities in the P3 project will be open to the public. The first public facility opened in April in Johnstown, Pa., at the Cambria County Transit Authority. Another private facility for Mid Mon Valley Transit in Donora, Pa., opened this month.
Trillium will use this new fueling station as a stop on the second annual "From Sea-to-Shining-Sea" NGV Road Rally Across America. This year's 18-stop, 4,825-mile NGV Road Rally, presented by NGVAmerica, the American Public Gas Association and the American Gas Association, began outside of Long Beach, Calif., Monday, June 5, and concludes in Washington, D.C., today.
According to Love's Trillium CNG, additional public facilities will open at the following transit authorities in later phases of the P3 project: New Castle Area Transit Authority, Indiana County Transit Authority, County of Lackawanna Transit System and Erie Metropolitan Transit Authority.