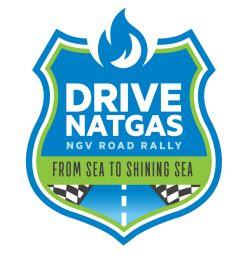 NGVAmerica, Clean Cities and the American Public Gas Association are sponsoring the second annual "From Sea to Shining Sea" natural gas vehicle (NGV) road rally, starting on Monday, June 5.
The groups are holding the relay event to demonstrate the benefits of using compressed, liquefied and renewable natural gas in transportation. As reported, a variety of vehicles available today that run on natural gas will be incorporated into multiple stops throughout the country over a two-week period.
"The west coast-to-east coast road rally not only dispels the myth of NGV 'range anxiety' but will also draw media attention to the historic VW settlement program," says event coordinator Tom Sheehan. "Every stop will serve to educate states on how NGVs are the most cost-effective use of funds for clean transportation projects as part of the $2.9 billion VW settlement."
According to NGVAmerica, this year's 4,825-mile journey road trip, from Long Beach, Calif., to Washington, D.C., is a celebratory journey that includes a multitude of host sites across America, award ceremonies and educational opportunities that highlight NGVs' value proposition.
There will be event media stops in Tolleson, Ariz.; Albuquerque, N.M.; Tulsa, Okla.; Conway, Ark.; Dickson, Tenn.; Knoxville, Tenn.; Salisbury, N.C.; and Newport News, Va.
Other rally events that tie into the main route will be held in Houston, Texas; Leesville, La.; Atlanta, Ga.; and Spartanburg, S.C.
Additionally, a separate spur will also make its way to Washington, D.C., via Fair Oaks, Ind.; Wixom, Mich.; Columbus, Ohio; and York, Pa.
The event is open to the public, and attendees will include state and local government officials and policymakers, the media, NGV supporters, customers, and advocates, as well as industry stakeholders and Clean Cities coordinators.