The Transit Authority of River City (TARC), which serves the greater Louisville area, says it has begun adding six new all-electric, zero-emission buses from Proterra along the Fourth Street corridor between downtown and Iroquois Park in Kentucky, stopping at some of the city's most popular destinations.
With the new buses, TARC will have a total of 15 all-electric buses on the road, making it one of the largest electric bus operators in the country.
"We know passengers enjoy a quiet, clean ride, and it doesn't get better than this," says TARC Executive Director J. Barry Barker. "We encourage everyone – visitors and residents alike – to take a ride on one of these zero-emissions, modern buses and have fun visiting top city attractions."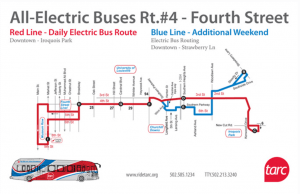 In addition to traveling every day exclusively on Route #4-Fourth Street between downtown and Iroquois Park, the new buses will also travel a section of the route to Strawberry Lane on weekends. The transit authority adds that some of the popular stops include Museum Row downtown, the University of Louisville, Speed Museum, Churchill Downs, the Kentucky Derby Museum and Old Louisville.
TARC says this new investment will total $4.65 million, mainly funded with a $4.4 million grant from the Federal Transit Administration's Low or No Emission Vehicles Deployment program.
"Since coming into office in 2011, I've emphasized our city value of creating a healthier and more sustainable Louisville," says Mayor Greg Fischer. "Efforts like this – adding these sleek, modern buses to our TARC fleet – are how we live that value and how we bring that value to life for our citizens."
These new Proterra electric vehicles will replace 16-year-old buses that have traveled more than 600,000 miles. As a result of this upgrade, the harmful emissions from the old buses – more than 30,000 pounds into the air each year – will be eliminated, and approximately 60,000 gallons of diesel fuel a year will be spared.