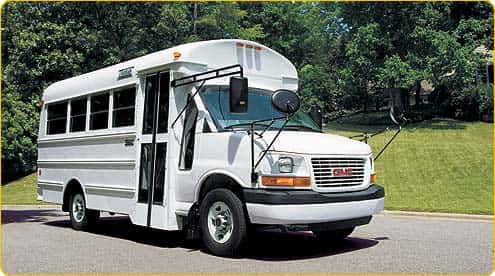 Thomas Built Buses says Minotour model buses that feature liquid propane autogas injection systems from CleanFUEL USA are now in production. The company has already delivered the first two propane Minotours to Student Transportation of America.
The Minotour is a Type A, 30-passenger bus aimed primarily at school, childcare center and church fleets. The propane option – powered by a GM 6.0-liter engine – is available on the 159′ dual-rear-wheel model with a GVWR of 14,200 lbs. Three propane tanks yield a range of approximately 315 miles. The vehicle is California Air Research Board-certified and exceeds EPA 2010 emissions requirements, the company says.
'As the demand grows for sustainable transportation solutions, Thomas Built Buses is at the forefront of offering a robust line of alternative-powered vehicles,' says Kelley Platt, president and CEO of Thomas Built Buses.
The company also announced that it is developing a compressed natural gas (CNG)-fueled Saf-T-Liner C2 school bus that will use the Cummins Westport ISB6.7 G 6.7-liter natural gas engine.
According to Thomas Built, the new CNG bus is expected to be available in 2015. The Thomas Built Saf-T-Liner HDX school bus with CNG was released in 1992, and more than 1,300 of these models have been deployed since that time.
Thomas Built's portfolio of alternative fuel vehicles also includes the Saf-T-Liner C2e Hybrid, and a propane-powered Saf-T-Liner C2 bus is in development and expected to be available next year.
Photo courtesy of Thomas Built