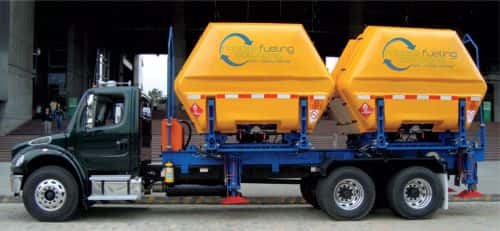 Mobile Fueling Solutions (MFS), a new company headquartered in West Nyack, N.Y., has debuted its flagship product for compressed natural gas (CNG) refueling: the MFS Virtual Pipeline.
This platform, which incorporates technology from longstanding natural gas products firm Galileo, is designed to help fleets quickly and economically deploy CNG capacity. MFS – Virtual Pipeline brings CNG to its users via two options: on-site fueling or a modular delivery system.
In a scenario similar to traditional wet hosing services, the company can fuel natural gas vehicles directly from a proprietary modular container (known as MAT) that is trailer-transported to a customer's site. MAT features a built-in compression and filling system, which minimizes equipment needs.
In the second option, MFS installs a CNG dispenser at the customer's site, drawing from the mobile-fueling MAT as a 'fixed' station.
'This easy-to-implement, scalable solution will enable many more fleets to access the significant savings and environmental benefits afforded by CNG,' says Dean Sloane, CEO of MFS. 'With limited or no capital expenditure, MFS provides fleet owners the opportunity to test and deploy a comprehensive CNG solution with minimal risk.'
For additional details, contact Sloane at (845) 675-7892 or dean@mobilefuelingsolutions.com.