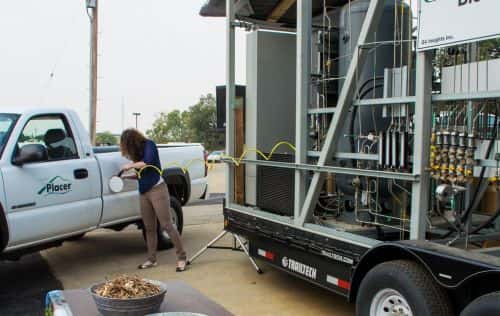 Earlier this week, project partners demonstrated a new technology for converting forest waste into renewable natural gas in Placer County, Calif.
The process, developed by Canadian firm G4 Insights, converts scraps and small trees from forest thinning projects into a renewable natural gas called biomethane. In its first public demonstration, G4 used gas produced on-site to fuel a Placer County truck.
"G4 is pleased to have the opportunity to partner with Placer County, California Energy Commission, Southern California Gas Company, and U.S. Endowment for Forestry and Communities to make this project a great success," said G4 Principal Matt Babicki. "This project demonstrates the potential for G4 PyroCatalytic Hydrogenation technology to transform forestry waste into high-value, low-carbon fuel, and support forestry communities with long-term jobs to collect biomass and operate G4 renewable natural gas plants."
According to Placer County, renewable natural gas produced from forestry waste could serve a helpful role in alternative energy production, especially in heavily forested areas. Typically, forestry waste is burned where trees are felled to reduce wildfire hazards, which increases air pollution locally. Converting it into natural gas instead could reduce air pollution and increase the supply of sustainably produced clean energy.
Placer County provided G4 with forestry waste from Tahoe National Forest and workspace and logistical support at its transportation yard in North Auburn, as well as assisted with the planning, coordination and preliminary environmental permitting for a potential larger-scale pilot facility in Placer County.
"Continuing to build a sustainable energy future in Placer County means using every kind of alternative energy we can," said Kirk Uhler, chairman of the Placer County Board of Supervisors. "This could turn out to be an important part of that, and at the same time, have a significant role in reducing forestry waste that can present a wildfire hazard."
G4 received a $1.2 million grant from the California Energy Commission in 2011 to develop the demonstration plant.
'Forest waste is one of the largest sources of potential waste resources for biofuels and bioenergy in California,' said California Energy Commissioner Janea A. Scott. 'Bringing more technologies like the G-4 Insight technology, which can sustainably convert waste materials from forest restoration activities into low-carbon transportation fuels online, would be a significant achievement.'
Photo courtesy of Placer County