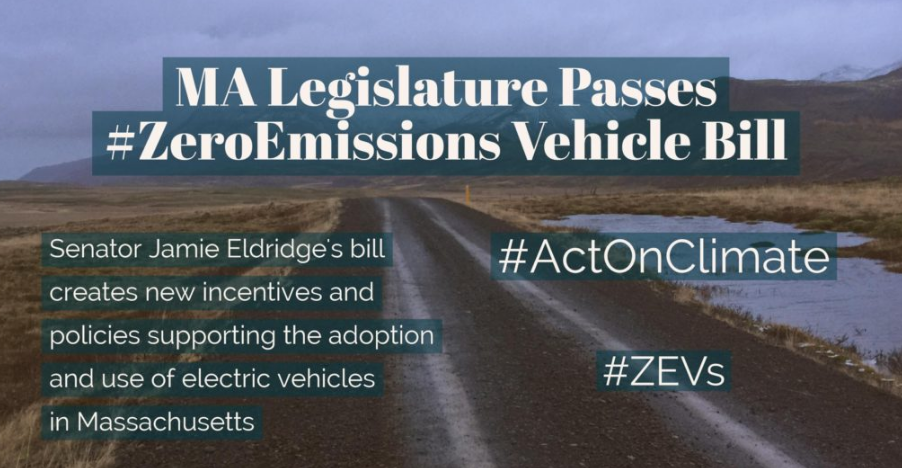 Massachusetts Sen. Jamie Eldridge, D-Acton, has announced that the state Legislature passed S.2505, An Act Promoting Zero Emission Vehicle Adoption, on Jan. 3, the last day of the legislative session.
"Increasing the use of zero-emissions vehicles would reduce our carbon footprint, and I'm very pleased to have worked with my Senate and House colleagues to get this important legislation passed before the end of session," says Eldridge. "I have spoken with many Massachusetts residents who support reducing our dependence on fossil fuels and who would buy zero-emission vehicles if there were financial and practical incentives to do so."
Specifically, the legislation permits cities and towns to establish designated parking opportunities for zero-emission vehicles, sets guidelines for fair electric vehicle charging terms at public charging stations, and commissions a study on the electrification of the state fleet.
"This legislation encourages the use of electric vehicles in Massachusetts, further advancing our state's position as a clean energy leader," says Senate Committee on Ways and Means Chair Sen. Karen E. Spilka, D-Ashland. "This is another important step in our efforts in the Senate to protect the environment and ensure a sustainable future."
"We have taken significant steps this year to protect our environment, and Senate President Rosenberg, Chairwoman Spilka and their staffs deserve credit for their work on this legislation," Eldridge comments. "This bill will further help us reach the greenhouse-gas reduction goals set by the Global Warming Solutions Act, and I hope to see Governor Baker sign it into law."
The bill now goes to Gov. Charlie Baker's desk for consideration.