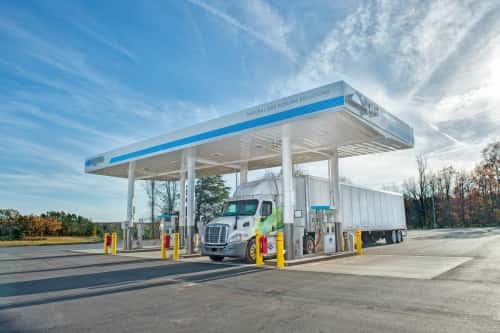 Spire Natural Gas Fueling Solutions, a subsidiary of The Laclede Group, has launched a public-access compressed natural gas (CNG) station in Greer, S.C. On Tuesday, local officials joined Spire executives to celebrate the facility's official grand opening.
"We designed this station with the heavy-duty truck driver in mind, from easy access to the station and a wide turning radius to fast fueling pumps that get drivers back on the road quickly and safely," said Peter Stansky, Spire's president and chief operating officer.
The station is located at 85 Freeman Farm Rd., a site Spire says is ideal for drivers because it is right off Interstate 85 and next to a full-service convenience store featuring food, drinks and restrooms. The facility features six fueling hoses and offers a maximum total flow rate of 16.7 GGE/min.
Spire notes that although it designed the station for large fleet vehicles like Class-8 trucks, CNG-powered passenger vehicles like a Honda Civic Natural Gas can also refuel there.
"We are excited for Spire to join the Greer community," said Mark Owens, president of the Greer Chamber of Commerce. "Greer is a trailblazer in regard to compressed natural gas, and we are proud that Spire will allow our businesses and residents to have another choice when it comes to fuel. This is another new technology to utilize which makes Greer a great place to be in business."