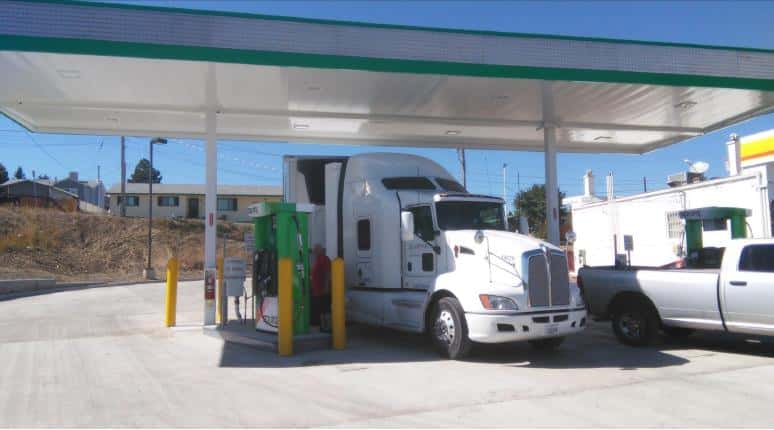 With support from a state grant program, Sparq Natural Gas has opened a compressed natural gas (CNG) station in Trinidad, Colo.
Co-located at the Duran Oil Co. Shell Convenience Store at 806 E. Goddard Ave., the new CNG site will serve regional heavy-duty vehicles traveling along I-25 and Highway 160, as well as local users such as the City of Trinidad, Las Animas County and Pioneer Natural Resources.
According to Sparq, the station features a 200 hp Ariel compressor packaged by ANGI, nozzles manufactured by Oasis, and a twin 37' CP Industries CNG storage setup (320 GGE dispensable).
Sparq received a $1 million under the ALT Fuels Colorado program to help de-risk investment in the Trinidad station and a CNG station in Pueblo, Colo. The state-administered program supports the build-out of CNG fueling infrastructure and alternative fuel vehicle adoption in Colorado, and Sparq's Pueblo location, opened in August, was the first CNG station to go online under the program.
"With CNG station grand openings in Trinidad and Pueblo completed the second half of 2015, drivers in 2016 can confidently plan and deploy compressed natural gas vehicles in southern Colorado," says Norman Herrera, CEO of Sparq Natural Gas.
"The City of Trinidad is pleased to support Sparq's efforts to grow natural gas utilization in our community," comments Trinidad Mayor Joseph Reorda. Sparq notes the city has deployed over 10 CNG vehicles in its water, public works, and public safety divisions.
In support of the new Trinidad station, the South Central Council of Governments (SCCOG) was awarded a Colorado Department of Local Affairs grant for the acquisition of three CNG minivans and one small CNG transit bus
"By exchanging our old buses with new CNG minivans, we'll be running a more efficient vehicle on those routes. And CNG is a more affordable, cleaner and locally produced fuel," states Nate Vander Broek, SCCOG's transit director.