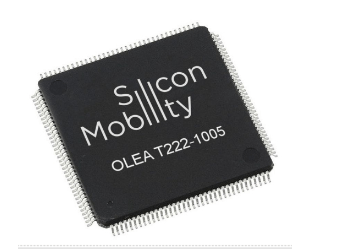 Silicon Mobility, a semiconductor company offering products for engine electrification, hybridization, autonomous and driverless vehicle control, says it has officially introduced OLEA T222, a new solution for hybrid and electric powertrain control.
The company states that OLEA T222, a new member of the OLEA family, is the first-ever automotive microcontroller with embedded, robust and secured programmable logic, the company states.
According to Silicon Mobility, the OLEA T222 has been designed to get the best of all of the electric machines in the heart of hybrid electric vehicles and electric vehicles, offering flexibility, hard-real-time parallel processing and safe architecture.
The company claims it designed the solution "to control all flavors of hybridization, micro, mild or full, including Integrated Belt Starter Generator (i-BSG), Crankshaft Motor driven Generator (CMG), Gearbox Motor driven Generator (GMG), in-wheel Motor or in-axle Motor, DC/DC converter, as well as full electric powertrains."
Furthermore, OLEA T222 technologies and feature set address other applications and make it the ideal controller for Battery Management Systems, Exhaust or Selective Catalytic Reduction (SCR) systems, or even conventional Internal Combustion Engines. Applications such as Damping Control for Chassis will also get the full benefits of OLEA T222.
The company says this solution directly contributes to vehicles' CO2 emission reductions – allowing the downsizing of the electric motors while restituting the best energy efficiency without compromising the vehicle performances.
Silicon Mobility notes that the OLEA T222 features AMEC and SILant, Silicon Mobility's patented technologies.