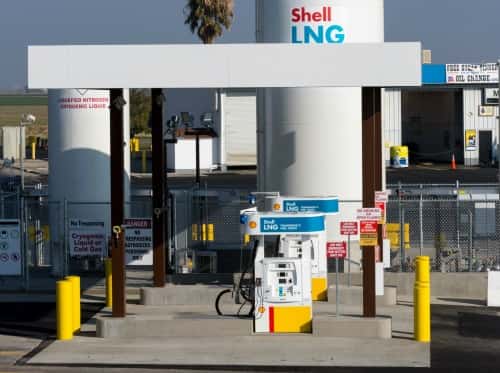 Shell has opened new liquefied natural gas (LNG) fueling lanes at another TravelCenters of America (TA) station.
Located in Santa Nella, Calif., the new LNG site is the latest to be built under a partnership agreement between Shell and TA, which was initially announced in 2012. This represents the partners' second LNG project in California and follows on the heels of the opening of LNG fueling lanes at TA locations in Texas and Louisiana earlier this year.
Shell says heavy-duty truck fleet owners are increasingly choosing LNG fuel over traditional diesel because it can be cost-competitive for trucks that cover long distances.
"I am excited by the progress we have made in developing the LNG fueling network in the U.S.," states Elen Phillips, Shell's vice president of fuels sales and marketing for North America. "LNG is a viable fuel option for truck owners, and more are making the switch to LNG."
As customer demand grows in the U.S., Shell and TA plan to open additional LNG truck fueling lanes.
"Shell is committed to developing LNG as a fuel option for marine and road transport, and we continue to look at supply opportunities in the region in balance with demand," says Christian Buelow, Shell's general manager of downstream LNG for the Americas. "LNG is a viable fuel option for heavy-duty truck fleet owners, today."
TA notes it has retrofitted 10 of its facilities to provide truck maintenance and repair on both LNG- and compressed natural gas (CNG)-fueled trucks.
"We are pleased to announce that Santa Nella is now our sixth site to offer LNG, along with having 10 truck maintenance and repair facilities for LNG and CNG vehicles," says Tom O'Brien, president and CEO of TA. "All of our LNG lanes are 'super lanes,' in that they are equipped to dispense LNG, diesel and DEF. Because super lanes are integrated with existing fuel lanes, we do not interrupt truck traffic flow, or reduce available truck parking spaces."