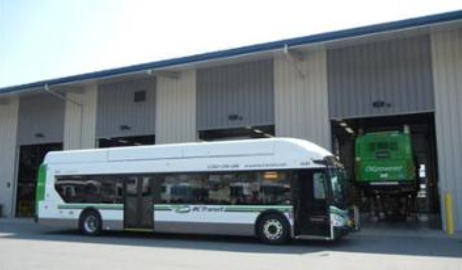 The Regional District of Nanaimo (RDN) in British Columbia will soon add 24 XN40 Xcelsior New Flyer compressed natural gas (CNG) buses to its fleet, making it the first community in Canada to operate a fully CNG-powered fleet of transit buses.
According to BC Transit President and CEO Manuel Achadinha, these additional 24 CNG buses will build off the success of the first 25, which arrived in Nanaimo in 2014.
Since the arrival of the first 25, the company has seen a 2% decrease in operating costs per service hour and 38.5% operating cost recovery in 2015/2016. The buses have also proved very reliable, clocking an average of 53,000 kilometers each in their first year of service.
"Decreasing ozone-forming emissions in Nanaimo will not only help to further protect the city's natural beauty, but provide cleaner air for the residents and visitors alike," comments Michelle Stilwell, MLA for Parksville-Qualicum. "That is why it is so important that we protect and sustain our environment through the implementation of green, renewable energy innovations. The adoption of a fully CNG-powered fleet is a giant step in the right direction."
"We are proud to be the first community in Canada to operate a full CNG-powered fleet," says Bill Veenhof, RDN board chair. "This important step will reduce our carbon footprint and our operating costs, both of which support our strategic goals of protecting our environment and delivering economically viable services."
BC Transit says the purchase of the 24 new vehicles represents an investment of C$15.4 million. To help offset the initial costs associated with the purchase, FortisBC will provide funding of up to C$480,000, representing 50% of the cost differential of CNG buses over diesel counterparts.
"BC Transit has shown the success of compressed natural gas as a fleet fuel for commercial vehicles," says Sarah Smith, FortisBC director of Natural Gas for Transportation and Regional Liquefied Natural Gas. "By completing its Nanaimo fleet with compressed natural gas, BC Transit is not only ensuring benefits for the community through a cleaner, more cost-effective fuel, but also for all FortisBC gas customers who will see rate benefits of a gas distribution system that is more optimized year-round."
The 24 new CNG-powered buses are being delivered to RDN throughout January and February. All buses are expected to be in service by the end of the spring.