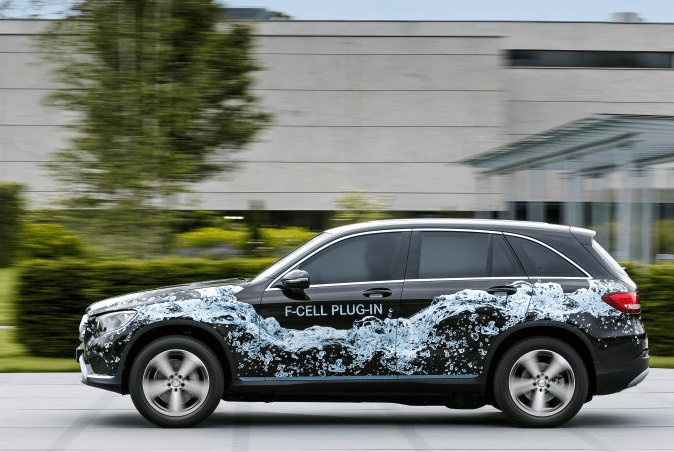 Mercedes-Benz engineers have joined forces with partners in the Daimler competence network to develop a new, compact fuel cell system, which can be fully housed in conventional engine compartments. The GLC F-Cell features a large lithium-ion battery as a further innovation of the next-generation fuel cell vehicles.
The new vehicle, based on the Mercedes-Benz GLC, is being launched in 2017.
According to Daimler, the battery, rated at 9 kWh, serves as an additional energy source for the electric motor and can be charged externally by means of plug-in technology. The company says that the combination of fuel cell and battery system offers maximum efficiency and comfort, enabling the GLC F-Cell to achieve a total combined range of around 500 kilometers in the New European Driving Cycle (NEDC).
Daimler asserts that fuel cell developers have designed this system to be approximately 30% more compact than previous designs and that both performance and operating range are also optimized. Furthermore, the company says the cost of the technology has been slashed, thanks largely to a 90% reduction in the amount of platinum used in the stack.
The battery, housed at the rear of the SUV to save space, allows the GLC F-Cell to run on purely battery-electric power for up to 50 kilometers in the NEDC and can be conveniently charged at a standard household socket, a Mercedes-Benz wall box or a public charging station.
Further, Daimler adds that two carbon-fiber-encased tanks built into the vehicle floor hold around 4 kg of hydrogen. Thanks to the globally standardized 700-bar tank technology, the tank in the GLC F-Cell can be refilled at a hydrogen filling station within three minutes.
According to the company, the plug-in fuel cell drive combines the advantages of both zero-emission drive technologies and continuously optimizes the use of both energy sources in line with the current operating situation. The system also features a recuperation function, which allows energy to be stored in the battery during braking and coasting phases.