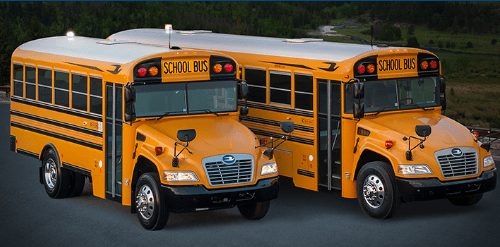 The Rockwood School District has purchased 164 Blue Bird Vision and All American FE clean diesel buses from Blue Bird dealer Central States Bus Sales after choosing to end a contract with a transportation company.
The 22,000-student school district says this move will significantly save money and improve overall air quality, forecasting a savings of $500,000 in the first year alone.
"We thought we could do it cheaper by bringing our fleet in-house, when faced with a 15 percent increase in proposed contractor rates for our school transportation requirements," says William Sloan, director of purchasing and transportation director at Rockwood School District. "We have more control over the operations, procedures and policies, plus there's improved accountability as the transportation staff are now part of our team."
In addition to saving money on operational costs, the district will benefit from the Blue Bird Vision and All American FE clean diesel buses, which run on an ultra-low sulfur fuel and are certified to meet and exceed current Environmental Protection Agency emissions standards.
"Our customers want to lower operational costs and address environmental concerns – we are here to help," says Phil Horlock, president and CEO of Blue Bird.
The district says it chose the new clean diesel buses after reviewing all the alternative fuel options.
"It was obvious diesel-powered buses have become cleaner and get better mileage than previous diesel buses," Sloan says. "The buses are quiet and burn very clean with very little – if any – exhaust smoke."
Based on preliminary information provided by Rockwood School District from the first few weeks of operation, the Blue Bird All American FE – Diesel buses' average close to 10 miles per gallon, compared with 7.5 MPG with the older fleet.
Blue Bird also offers other alternative fuel options, including propane-powered and compressed natural gas-powered school buses.