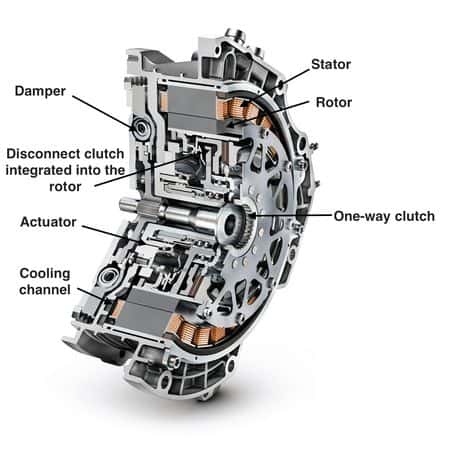 In an effort to offer hybrid drivetrain solutions for existing vehicles, Germany-based Schaeffler Group has announced the P2 high-voltage hybrid module. Designed to fit between the engine and transmission, the P2 hybrid module consists of an automated disconnect clutch and electric machine operated by an electromechanical central release mechanism to transmit engine torques of up to 800 Nm (590 lb-ft) to the transmission.
The disconnect clutch utilizes an electromechanical central release mechanism that actuates the clutch mechanically via a ball screw drive without the need for a hydraulic transmission line. This means that, apart from the module itself, no extra space is required for the actuator technology.
A one-way clutch is used to transmit the traction torques from the engine to the transmission, while torques are transmitted toward the engine via the clutch. This allows the clutch to have a compact design despite the high torques and enables the corresponding benefits in terms of space utilization and cost.
Due to its high variability and broad torque range, the P2 hybrid module can be used in both 48V architectures and high-performance, high-voltage drive concepts.
In a further development, a damper has been added in front of the electric machine in the hybrid module. If the mechanical damper reaches its limits in terms of vibration while operating at demanding speeds, the electric motor takes over and the active damping ensures that acoustic demands are met. This new hybrid module will be put into volume production for the first time at the start of 2017.
Schaeffler has developed a variation on the P2 hybrid module for the American market with an integrated torque converter. In this instance, the mobility supplier is combining its core expertise in torque converters with hybrid modules, resulting in further improvements in space utilization. This high-voltage solution is expected to be in use in a North American light-duty truck by 2020.