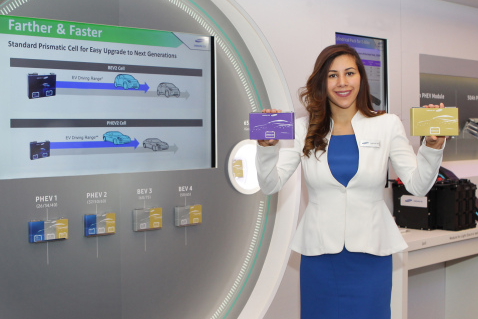 At the North American International Auto Show 2017, held on Jan. 9 in Detroit, Samsung SDI introduced a "high-energy density battery cell of the next generation for a driving range of up to 600 kilometers that can fast charge EVs in 20 minutes" and an "integrated battery module" concept with a 10% decrease in component units and weight compared with the currently produced models.
According to the company, the development of fast-charging technology is rapidly advancing, thanks to its technological know-how in materials and processes that vastly decreased the resistance inside a battery cell. With a 20-minute charge, a driver can have a driving range of up to 500 kilometers, which is 80% of the capacity.
This means that only 20 minutes in the highway rest area will be enough for a battery to be charged, eliminating the range anxiety of electric vehicle (EV) drivers.
The mass production of this product is slated for 2021.
In addition, Samsung SDI exhibited a brand-new concept – an "integrated battery module." A conventional EV battery module consists of 12 cells and has a capacity of 2~3 kWh. By contrast, an integrated battery module has more than 24 cells, with a higher capacity of 6~8 kWh, which makes it an adequate module in the high-capacity EV era.
Samsung says the integrated battery module not only is larger in size, but also shows a higher safety level because the advanced electro-mechanical design has been applied. This concept is expected to be a boon in the electromobility sector, as it will be lighter, with fewer components.
An official from Samsung SDI comments, "The high-energy density battery cell with the fast-charging capability and the integrated battery module are the innovative technologies with full potentials that can transform the market. Expectations are high that we will be able to accelerate the vehicle electrification utilizing these technologies, with improved driving range, manufacturing efficiency and user convenience."
Further, Samsung SDI also showcased a full lineup of 12 V, 48 V Low Voltage Systems that goes in line with the current trend of higher fuel efficiency. In response to ever-tougher CO2 emissions regulations, these products are grabbing the attention of automakers because of their outstanding fuel-saving performance of up to 20% compared with conventional internal combustion engines.
The company also exhibited the "21700" cylindrical battery cell model with the improved energy density, power and performance – a technology that is gaining more attention as U.S. automobile start-ups are adopting this technology in their EVs.