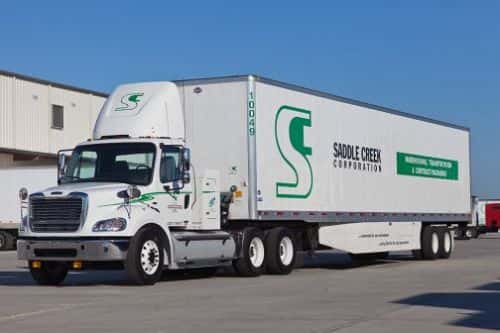 Freightliner Trucks says Saddle Creek Corp., a third-party logistics company based in Florida, has added 40 Freightliner Business Class M2 112 compressed natural gas (CNG) tractors to its fleet. This order doubles the company's complement of natural gas vehicles (NGVs).
The tractors will be outfitted with a 140-gallon fuel system, allowing for an approximate range of 550 to 575 miles. The M2 112 CNG is powered by the Cummins Westport ISL G 8.9-liter natural gas engine, which features a maintenance-free three-way catalyst system.
'We have learned a lot from the first 40 trucks and are very excited about the next 40 as we continue to implement natural gas technology across our truckload operations,' says Mike DelBovo, president of Saddle Creek Transportation.
'Saddle Creek has demonstrated that natural gas is an environmentally-friendly option that also reduces fuel costs,' adds Robert Carrick, vocational sales manager – natural gas, for Freightliner Trucks.