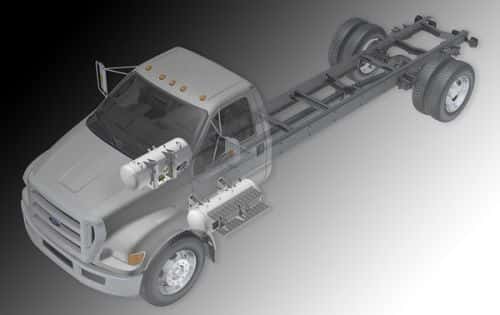 This week, ROUSH CleanTech will begin taking fleet orders for its propane autogas-powered Ford F-650 chassis cab, bringing a new dedicated propane platform to the medium-duty marketplace.
The systems will be available with two tank-size configurations: trucks with non-skirted bodies can be optioned with 80 usable gallons of fuel capacity, and a tank package offering 45 usable gallons will be available for skirted bodies. A dual 'saddle' tank design replaces the original gasoline tank location and features a single refueling point on the vehicle.
'Fleet managers operating cylinder delivery trucks, dump trucks, boom cranes, box trucks, snow plows, spreaders and propane bobtail delivery vehicles can significantly lower their operating costs, carbon footprint and imported oil dependence with the new ROUSH CleanTech Ford F-650,' says Todd Mouw, vice president of sales and marketing for ROUSH CleanTech.
The F-650 platform is rated up to 30,000 lbs. GVW, opening up a potentially huge fleet market for dedicated propane vehicles. Notably, ROUSH CleanTech's system meets both California Air Resources Board and U.S. Environmental Protection Agency regulations.
The company – a Ford Motor Co. Qualified Vehicle Modifier (QVM) – notes that F-650s ordered now will roll through production in October.