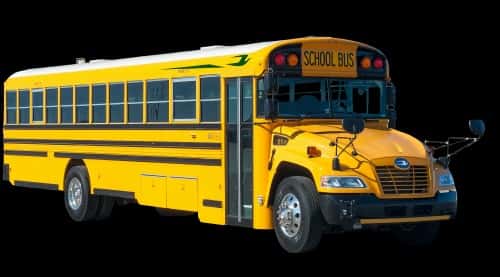 ROUSH CleanTech, well known for its propane autogas fuel systems, recently joined NGVAmerica as a member. The move comes after the Michigan-based company marked its entrance into the compressed natural gas (CNG) vehicle market in November, having teamed up with long-time partner Blue Bird Corp. to launch a new CNG-powered school bus.
"The recent fuel system introduction with Blue Bird on the much anticipated Type C Vision powered by CNG is allowing ROUSH CleanTech to become involved with other partners, such as NGVAmerica, to spread the word about this product," Todd Mouw, ROUSH's vice president of sales and marketing, tells NGT News.
"We know it takes a team to properly educate a customer on all of the requirements related to properly rolling out an alternative fuel vehicle, and we are leveraging NGVAmerica's knowledge and industry relationships."
So, why move into the CNG space?
"We believe in and support all of the different alternative fuels and technology," says Mouw. "Propane has been and will continue to be near and dear to ROUSH CleanTech, but our strategic partner, Blue Bird, and most importantly, their customers, are asking for CNG.
"The school bus market is a perfect space for alternative fuels," he continues. "The complexity of diesel gets tougher and tougher to manage, account for and service, making propane autogas and CNG perfect solutions. This theory has already been tested out as we have deployed more than 6,000 propane autogas school buses with Blue Bird in approximately the last 36 months."
Mouw notes that although this latest product will be ROUSH CleanTech's first CNG solution, a sister division, Roush Industries, has a long history of helping customers develop, engineer and integrate CNG fuel system technology into their products.
Will ROUSH CleanTech offer more CNG solutions in the future?
"Any future plans are to be determined," says Mouw. "We have strong demand for all of our Class 4-7 propane autogas products and will tie future product development to the needs of the market. We will continue to diversify our product and technology mix as the market evolves."