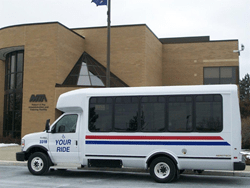 ROUSH CleanTech has developed for the Ford E-450 chassis an extended-range propane autogas tank that holds 56% more fuel than a standard, 41-gallon tank.
With 64 usable gallons of propane autogas, the tank offers the longest fuel range for the Ford E-450 model, according to Todd Mouw, vice president of sales and marketing for ROUSH CleanTech.
'We listened to our paratransit customers who wanted the Ford E-450 chassis yet also needed more autogas fuel capacity,' he explains.
Built on Ford's 6.8-liter V10 engine, the Ford E-450 with an extended-range fuel system comes with an extended, five-year, 100,000-mile warranty exclusively for the transit industry.
ROUSH CleanTech Ford E-450s are compliant with California Air Resources Board and Environmental Protection Agency standards and have completed the Federal Transit Administration's new model bus testing program (Altoona Testing).
"With a strong backlog of more than 200 orders, we will begin shipping the Ford E-450 with the extended-range fuel tank option in October 2015," adds Mouw.