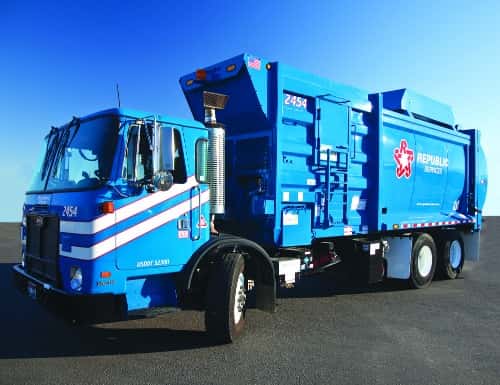 Republic Services has added eight compressed natural gas (CNG)-powered solid waste collection trucks to its fleet serving customers throughout the greater Raleigh, N.C., area. The CNG trucks replace older diesel-powered models and bring the total number of natural gas vehicles operated by Republic throughout North Carolina to 25.
"We're dedicated to providing our customers with outstanding service while doing business in the most sustainable manner possible," says Drew Isenhour, area president of Republic Services. "This also embodies the responsibility we assume for doing our part to preserve North Carolina's natural beauty for future generations."
Nationwide, Republic Services operates a fleet of more than 2,200 CNG vehicles and 38 natural gas fueling stations, and the company says its CNG fleet helps to save roughly 18 million gallons of diesel fuel annually. In addition, Republic Services has a sustainability goal to reduce fleet greenhouse gas emissions by 3% by 2018.
Earlier this year, a Republic Services spokesperson talked to NGT News about the company's CNG plans and offered recommendations for other fleets considering the switch. That article is available here.