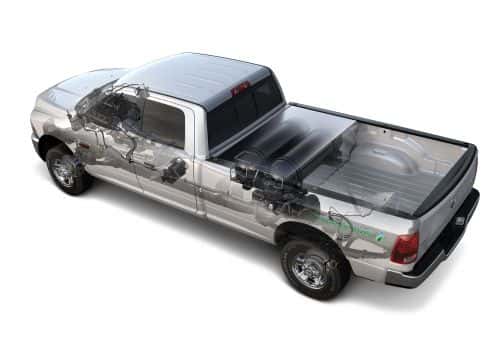 Ram Truck has announced it will expand the offering of its Ram 2500 compressed natural gas (CNG) bi-fuel pickup trucks to include regular cab and two-wheel drive configurations.
The factory-built Ram 2500 CNG pickup is powered by a 5.7-liter HEMI V-8 engine and features both CNG tanks and a choice of eight- or 35-gallon gasoline fuel tanks.
Ram says the two 130-liter CNG tanks are located in the forward portion of the truck's eight-foot pickup bed and provide a gasoline gallon equivalent (GGE) of 18.2 gallons.
According to the company, the vehicle's CNG-only range is 301 miles highway, while the backup supply of gasoline extends the range to 966 total miles.
The truck has a five-year/100,000-mile powertrain limited warranty, as well as a three-year/36,000-mile bumper-to-bumper limited warranty.
The Ram 2500 CNG system was fully engineered and tested by Chrysler Group and is assembled at the company's heavy-duty truck plant in Saltillo, Mexico. The new configurations will be available by year-end.