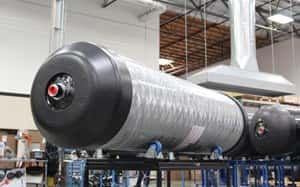 With plans to continue its newfound focus on the emerging compressed natural gas (CNG) virtual pipeline market, Quantum Fuel Systems Technologies Worldwide Inc. has announced additional funding.
The company says it has entered into definitive agreements with certain accredited investors for a private placement of 2% senior-secured convertible notes in the cumulative principal amount of $2 million. Kevin Douglas of Larkspur, Calif., led the transaction with an investment of $1.5 million.
Quantum intends to use a portion of the proceeds to design, develop and validate additional CNG virtual pipeline tanks and systems, including packaging and design features that can be applied for ground storage use for CNG stations.
'This funding will enable us to develop additional tanks and systems to complement our recently released and innovative 5,000 psi virtual pipeline tank product and continue to advance storage and transport technology to meet the growing needs in the market for virtual natural gas pipelines and advanced storage applications for mining, marine and CNG stations,' says Brian Olson, president and CEO of Quantum.
'The development and commercialization of virtual pipeline technology will serve us well in the near future during the continued build-out of CNG infrastructure, and we believe the same technology will lend itself longer term to the future development of hydrogen infrastructure and virtual hydrogen pipeline applications,' adds Olson.
Photo courtesy of Quantum Fuel Systems Technologies Worldwide Inc.: The company's recently announced 5,000 psi CNG tank for virtual pipelines.