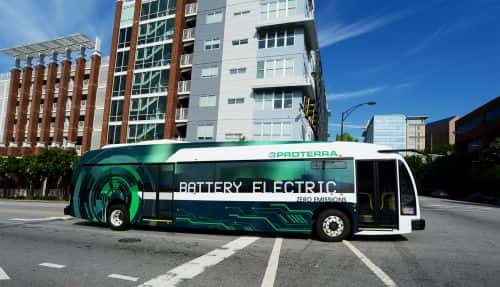 Proterra has introduced a 35-foot version of its Catalyst all-electric bus, which is based on the same technology platform as the company's current 40-foot Catalyst model. In addition, the company has announced the opening of its new headquarters in Silicon Valley.
The company says the new 35-foot Catalyst provides customers with nimble maneuvering and enhanced automated features, including collision avoidance and traction control, in a smaller model for dense urban areas.
Proterra has announced that Dallas Area Rapid Transit (DART) will be the first customer to receive the new product, with the agency slated to take delivery of seven 35-foot Catalyst buses and two overhead semi-autonomous fast chargers.
'We believe in staying at the forefront of transit, so Proterra's high-performance, zero-emission electric buses were an easy decision for us to make. These buses will give our riders and drivers the most modern bus transit experience on the road,' says Gary Thomas, DART's president and executive director.Â
'We're pleased to have Dallas as our first customer as they redefine their urban core and invest in a Smart City vision, prioritizing infrastructure, mobility and connected living,' states Ryan Popple, CEO of Proterra. 'With Texas' growing wind [power] capacity, we're pleased to provide a complementary clean mobility solution that will help Dallas improve its local air quality and reduce greenhouse gas emissions.'
Furthermore, Proterra says its new, 34,440 square-foot headquarters in Burlingame, Calif., will initially include 40 employees, with a mix of management and support teams. The company's Greenville facility in South Carolina will continue to manufacture Proterra's electric buses to meet East Coast demand, while Proterra tries to tap "the robust high-tech talent pool in the Bay Area."
Proterra is also slated to open a new Southern California manufacturing facility in 2016, at which point the company expects to double its production capacity. At the moment, the company says its firm orders are at 123 units, with 317 options contracted, for a total of 440.
Photo: Protera's 40-foot Catalyst bus