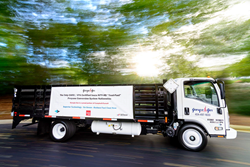 Arizona-based Campbell-Parnell says it has secured certifications for the application of the EmmeGas dual-fuel propane autogas conversion system on the Isuzu NPR-HD truck's GM 6.0 L engine.
According to Campbell-Parnell's Tom Campbell, the company received California Air Resources Board (CARB) certification for model-years (MY) 2014 and 2015 Isuzu NPR-HD trucks at the end of July, U.S. Environmental Protection Agency (EPA) certification for the MY 2014 in August, and EPA certification for the MY 2015 and 2016 at the end of September. Campbell says it expects to have the CARB certification for the MY 2016 sometime this month.
Atlanta-based Georgia Gas Distributors, a Campbell-Parnell partner and Southeast distributor for the autogas system, has announced it will be displaying a converted Isuzu NPR-HD at the Propane Education and Research Council booth during the upcoming GIE+Expo in Louisville, Ky.
"We work with many independent propane distributors across the U.S.," comments Campbell. "Georgia Gas has a true passion for autogas and the development of autogas in new markets, across the U.S."
Photo courtesy of Georgia Gas Distributors: A converted Isuzu NPR-HD