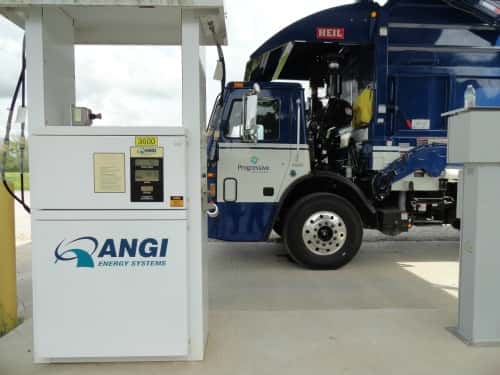 In partnership with BioCNG LLC, the government of St. Landry Parish, La., has officially opened its expanded facility that converts landfill gas into compressed natural gas (CNG), and Progressive Waste Solutions will fuel its local CNG-powered fleet at the revamped station.
The parish decided to expand its existing fueling facility, originally completed in 2012, after Progressive Waste signed a fuel purchase agreement with the St. Landry Solid Waste Commission.
Earlier this year, Progressive Waste purchased 10 new CNG-powered refuse collection trucks to provide residential collection services in the parish and decided to use the biogas generated at the landfill versus constructing its own CNG fueling station.
"We are proud to be a leader in the conversion of refuse trucks from diesel to natural gas fleets that delivers on our commitment to create a more sustainable future," states Bruce Emley, area manager in Louisiana for Progressive Waste Solutions. "CNG is a cleaner source of fuel, and by converting to it, we provide our customers in the communities we serve a more environmentally friendly approach to collecting residential and commercial waste and recyclable materials."
"On behalf of the district, I am delighted to celebrate the expanded facility's completion, which has been a year in the making," says Katry Martin, executive director of the St. Landry Parish Solid Waste Disposal District. "Progressive Waste has been successfully using the facility, and is now fueling 10 refuse trucks per day with an estimated annual consumption of 120,000 diesel gallon equivalents."
As St. Landry Parish explains, the garbage collected by Progressive Waste and disposed of in the landfill generates biogas, which is then converted into a renewable natural gas that powers the company's CNG collection vehicles.
The station also refuels public works trucks and the sheriffs' vehicle fleet.
The revamped vehicle fuel system includes an additional BioCNG system and a remote CNG fueling station in the City of Opelousas, which dispenses renewable CNG via mobile transport.
BioCNG LLC, which partnered with the district to develop the original system, designed, installed, and commissioned the new "primary-satellite" BioCNG station format.
Steven Wittmann, project manager for BioCNG LLC, says, "BioCNG's four-year relationship with the district has been gratifying, and we are proud to see the expanded BioCNG fueling station come to fruition."
Notably, the St. Landry Parish BioCNG project received the U.S. Environmental Protection Agency's Landfill Methane Outreach Program 2012 Project of the Year award.