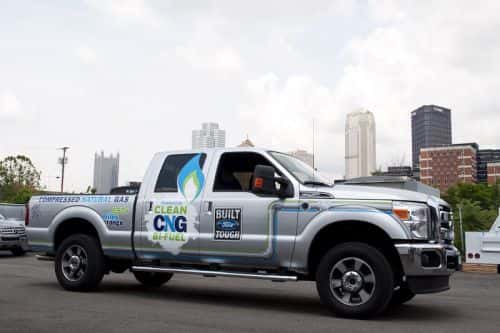 Westport Innovations Inc. says its Westport WiNG Power System – a compressed natural gas (CNG) bi-fuel offering – will be available on 2013 Ford F-250 and F-350 Super Duty pickup trucks for a $9,500 premium.
The Westport WiNG system, which is now in full production, yields a 300-mile driving range on CNG alone and a combined gasoline/CNG range of 650 miles. The system is fully integrated at the OEM level through the Westport LD subsidiary.
Fleet operators can order the bi-fuel platform through Westport LD authorized Ford dealer distributors, and credit and leasing is available through Ford Motor Credit. Westport LD builds the trucks to the customer's specifications, and the vehicles are then sent to the dealer for final delivery.
The new 2013 pricing for the system is approximately 3% lower than what it was for 2012.
'We are doing this to make CNG vehicles more accessible to large and small fleets, as well as to individuals,' says John Lapetz, Westport LD's vice president and managing director.
Westport Innovations operates facilities in Detroit and Louisville, Ky.