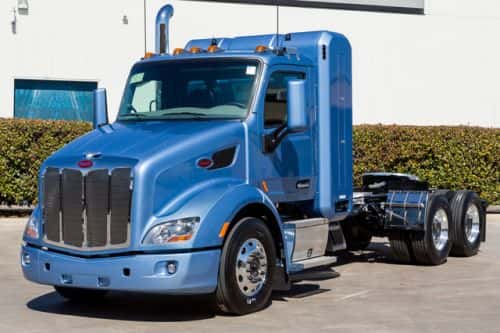 Peterbilt Motors Co. is now offering a new powertrain option – the Cummins Westport ISX12 G natural gas engine and Eaton UltraShift PLUS transmission – for its Model 579, 567, 384 and 365 heavy-duty trucks.
The UltraShift PLUS is available in the 13-speed MHP and 10-speed LAS series, and the 11.9-liter ISX12 G is available in configurations up to 400 hp and 1,450 lb.-ft. of torque. The combination offers on-highway and vocational fleets with a reliable option for an automated transmission coupled with compressed natural gas (CNG) or liquefied natural gas (LNG) power.
Eaton's transmission features 'intelligent shift selection' software that optimizes performance and efficiency, as well as 'tailored shift logic' that enhances braking performance. The transmission senses and adjusts to grades, weight and driver throttle commands.
'This new powertrain is an ideal option for our customers in vocational, regional and line-haul applications, providing precise shifting for more efficient operation with a versatile, fuel-efficient natural gas engine,' says Robert Woodall, Peterbilt's director of sales and marketing.