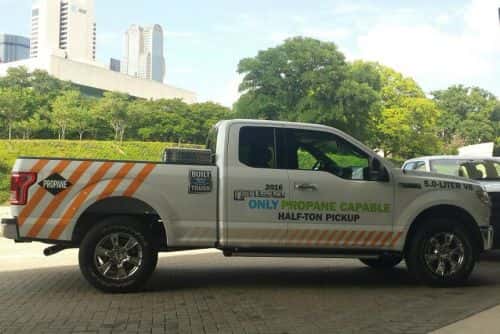 The Propane Education & Research Council has announced it is debuting a propane-powered model-year 2016 Ford F-150 at this year's Government Fleet Expo, which is being held at the Colorado Convention Center in Denver this week.
In booth 137, PERC will showcase the newly converted Ford F-150, which features a 5.0-liter V8 engine prepped with a U.S. Environmental Protection Agency-certified IMPCO Automotive propane autogas fuel system. IMPCO Automotive is a Ford Qualified Vehicle Modifier (QVM).
In May, Ford Motor Co. announced that it will offer its 2016 F-150 pickup truck with a gaseous-fuel prep package that enables 5.0-liter V8-powered models to run on propane autogas or compressed natural gas (CNG). Westport Innovations Inc., another Ford QVM, recently displayed the first 2016 F-150 featuring the CNG Westport WiNG Power System at this year's Alternative Clean Transportation Expo.
PERC notes it will also be showcasing propane-powered Gravely and Exmark commercial mowers and a refueling dispenser from Superior Energy Systems at the Government Fleet Expo.
Photo courtesy of PERC