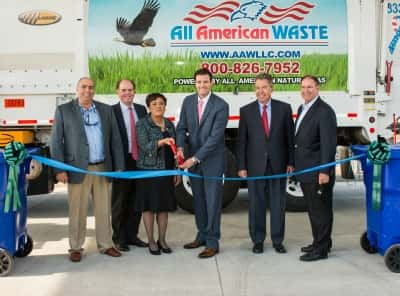 On Wednesday, Clean Energy Fuels Corp. and All American Waste, a New Haven, Conn.-based refuse and recycling company, celebrated the opening of their second joint compressed natural gas (CNG) station.
Clean Energy will operate the new facility, which consists of 40 time-fill fueling posts to serve All American Waste's growing fleet of heavy-duty CNG refuse vehicles. The station, located at 19 Wheeler St. in New Haven, also features a pair of fast-fill dispensers that are open to the public.
Representatives from Clean Energy Fuels and All American Waste were joined at the event by New Haven Mayor Toni Harp and George Longyear, director of graduate and professional student housing and fleet management for Yale University. CNG-powered vehicles, including some deployed by All American Waste, Yale University and Frontier Communications, were on-site for guests to view.
"Clean Energy Fuels is proud to partner with companies and communities committed to environmental sustainability," said Peter Grace, Clean Energy Fuels' senior vice president of sales and finance. "All American Waste and the City of New Haven are truly innovative leaders in cleaner fueling practices and sustainability efforts throughout the northeast."
The New Haven station builds on the success of the companies' first partner CNG station, which opened in Hartford in January 2013.
"All American Waste is constantly embracing more efficient and environmentally friendly collection and disposal practices," said Frank M. Antonacci, manager of All American Waste. "Partnering with Clean Energy … supports our sustainability efforts and manages our operations costs and bottom line."